About Pamper Your Pet
I founded Pamper Your Pet - Pet Care in 2000 in order to fulfill my dream of being able to work full-time with animals. After earning my MBA and working in diverse corporate environments, I wanted to do something I truly loved and was passionate about. I left the corporate world and never looked back.

I am one of those people who greets every animal that passes by and stops to snuggle and greet them. I can't resist! Now, I get to do that every day - loving and caring for dogs, cats, and other small animals.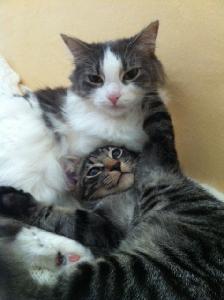 My pet family consists of several rescue cats who, through the process of getting to know them, have taught me to take time to understand how to interact with them on their level, so they are most comfortable with me. I am also very interested in pet nutrition and natural products for pets. Throughout my 15 years in the business, I have seen how natural products and basic nutrition can not only change the course of disease but help pets live longer and thrive!

A goal of mine is to establish and maintain long-term relationships with my clients. I have had the privledge of working with some clients since I first opened the business 15 years ago! We can adjust our service, trouble shoot, and refer you to trusted community resources that we have worked with for years.

Please let me know how I can best work with you.

Christine
Owner, Pamper Your Pet - Pet Care